Flawless plinths to Rent or Purchase Rounded edges or sharp corners, its up to you.
Standard MDF constructed plinths are biscuit jointed on mitred edge, primed interior exterior to reduce swelling and imperfections. The final coat is hardwearing and elegant oil based eggshell. Adjustable feet are fixed to underside to account for uneven surfaces and optional shadow effect.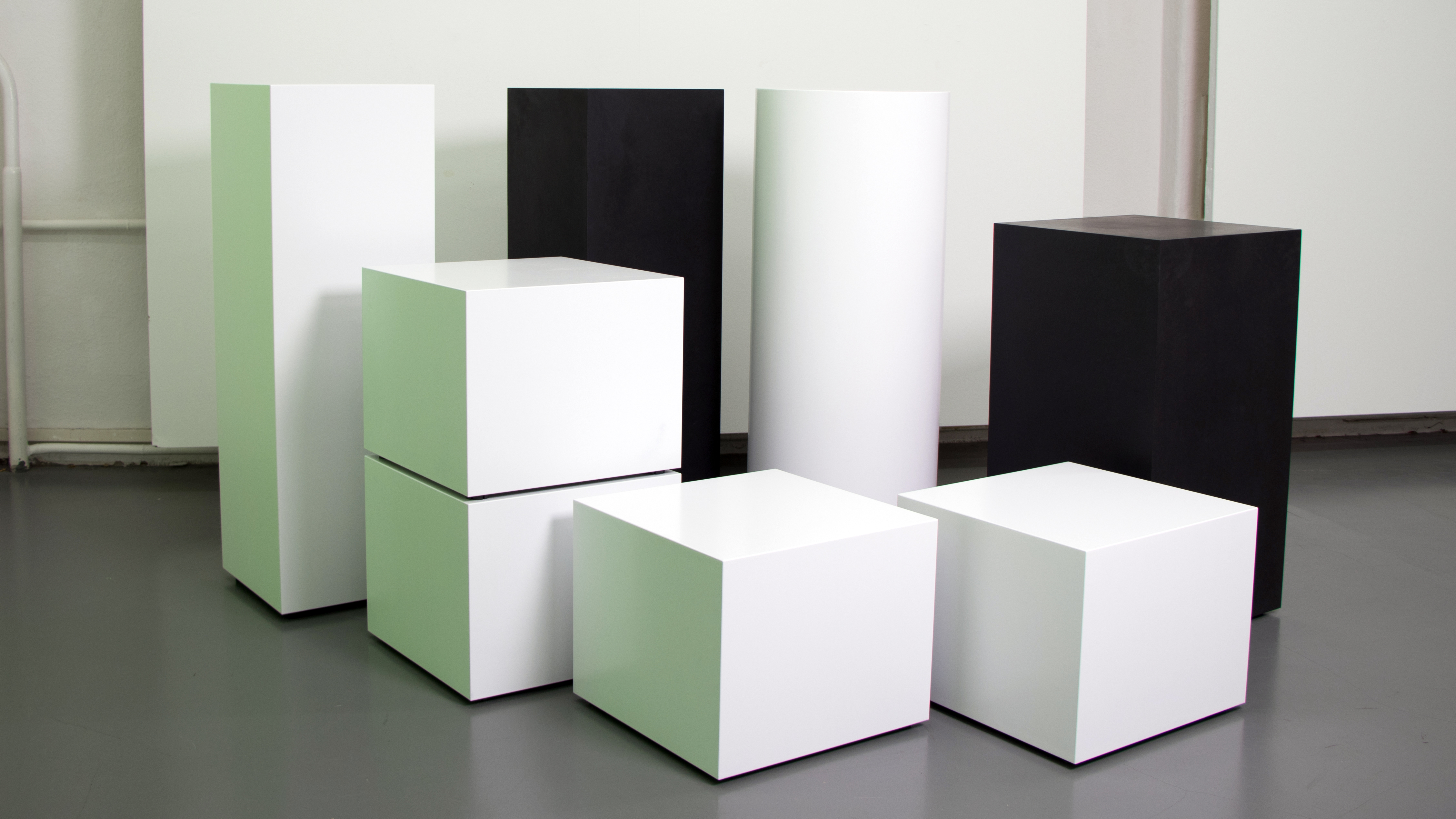 Group Display
Rent or Purchase



Standard shape and size plinths are available to rent.


Medium Standard
€40 flat rate + day rate + delivery (optional)
Height / Surface
30 x 30 cm
40 x 40 cm
50 x 50 cm
60 x 60 cm
40 cm
€5
cube price
€6 (4 available)
€7
60 cm
€6
€6 (one available)
€6
cube price
80 cm
€6
€6
€6
€7
100 cm
€6
€6
€7
€7
Large Standard
€50 flat rate + day rate + delivery (optional)
Height / Surface
30 x 30 cm
40 x 40 cm
50 x 50 cm
60 x 60 cm
110 cm
-
€7
€7
€7
120 cm
-
€8 (one available)
€8
€8
130 cm
-
€8
€8
€8
140 cm
-
€9
€9
€9
Cube
€30 flat rate + day rate + delivery (optional)
Height / Surface
30 x 30 cm
40 x 40 cm
50 x 50 cm
60 x 60 cm
30 cm
€5
-
-
-
40 cm
-
€5
-
-
50 cm
-
-
€6
-
60 cm
-
-
-
€6
Black Oiled
€60 flat rate + day rate + delivery (optional)
Height / Surface
30 x 30 cm
40 x 40 cm
50 x 50 cm
60 x 60 cm
90 cm
€7
€7
€8 (one available)
€8
120 cm
-
€8 (one available)
€8
€9
130 cm
-
€8
€8
€9
140 cm
-
€8
€8
€9
Cylyndrical
€70 flat rate + day rate + delivery (optional)
Height / Surface
30 x 30 cm
40 x 40 cm
50 x 50 cm
60 x 60 cm
90 cm
€12
€13
€14
€16
120 cm
-
€14
€15
€18
140 cm
-
€15
€16
€20